Part I reviewed the return of Battlestar Galactica and Part II featured information on Lost. I will conclude this expanded version of SciFi Weekend with briefer comments on additional shows, as usual moving beyond science fiction.
There is some information available on the next Doctor Who special, which will air around Easter.Tardis and Torchwood Treasures previously posted this information:
The name of the next special is Planet of the Dead and the episode itself has been written by both Russell T Davies and Gareth Roberts. It is expected to air around Easter and filming for the episode will begin on the nineteenth of January next year. The episode will feature two characters called Malcolm and Christina and U.N.I.T will also be making an appearance. Rumours also suggest that parts of the episode will be filmed abroad in Tunisia.
Additional information was provided by Russell T. Davies, who also says it is time to introduce new monsters after the last two episodes involved Daleks and Cybermen:
"After the events of Journey's End and The Next Doctor, I think it's time to get away from the past and have an adventure with lots of new elements. And lots of fun too! The next Special should be a nice antidote to Christmas, with a bit of sunshine if we're lucky. And with not one but two alien races that you've never seen before."
American viewers of Doctor Who either must wait months after episodes are broadcast on the BBC or illegally download the episodes. The third season of Torchwood will consist of only five episodes to be broadcast this summer on consecutive nights, but they have finally figured out the only way to reduce  illegal downloads. BBC America will broadcast the episodes a few hours after they are broadcast in the U.K.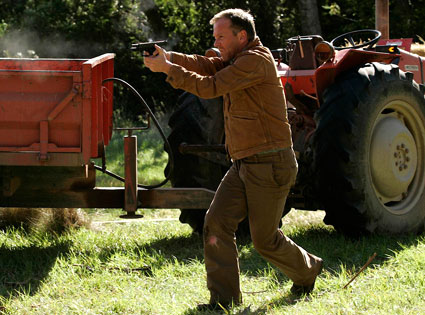 24 returned but despite the decision to shut down CTU and move the show to Washington, the show rapidly returned to a similar format with Jack teaming up with Tony,  Bill Buchanan, and Chole. The twist is that they are working on their own due to conspiracies in the goverment which have infiltrated the White House and the FBI. There is more question this season as to whether Jack's use of torture is right or wrong.
Sometimes viewers take the show too seriously, forgetting that it is only a television show. Media Matters notes that some conservatives even have tried to use a fictional show to justify their support for torture. On the other hand, I sometimes receive comments that I should not cover 24 due to its portrayal of torture. While liberals who argue this do have a point, they also must remember this is fiction, and that hopefully most people can still consider the real issues surrounding torture. Not even all conservatives blindly believe everything they see on the show. Conservative blogger Rick Moran has discussed the question of whether this television show increases the use of torture, and of whether torture works:
Jack Bauer may be the first fictional character ever to be accused of inspiring real life war crimes. This charge was not made by some obscure left wing blogger but by U.S. Army Brigadier General Patrick Finnegan, the dean of the United States Military Academy at West Point, along with several senior FBI and CIA agents who have conducted thousands of interrogations in their careers. Their verdict was simple and straightforward; the torture scenes in the show were affecting the way that cadets at West Point as well as troops in the field were approaching the interrogation of prisoners.

Finnegan said that he'd like to see a show "where torture backfired." All the experts agreed that torture, even when used in the show's "ticking bomb" context, would never work. They pointed out that the fanatics, knowing that the bomb would go off soon, would simply hold out, secure in the knowledge that their suffering couldn't last much longer.

They also pointed out that terrorist prisoners actually looked forward to torture as the first step towards martyrdom. An interrogation professional would never use it and would, instead, take the opposite tack of trying to build a relationship with the prisoner, drawing him out gradually by gaining his trust. Besides, the "ticking bomb" scenario itself was totally unrealistic and would never happen in the real world.

It is a dubious proposition that a fictional TV character would cause our soldiers to forget their training and their upbringing just to imitate Jack Bauer. The evidence is purely anecdotal, presented by people with an obvious agenda. But that doesn't mitigate the fact that they felt compelled to speak out against Bauer's almost casual approach to violating the law and their concern that people get the wrong idea about the best way to interrogate prisoners.
As the show questions the fantasy of torture being effective, it also might even question the ultimate fantasy of the show–that Jack Bauer is invincible. Kristin reveals that there might only be one additional season of the show, there might be a movie after the eighth season, and that they might even blow up the whole world, and Jack Bauer with it.
24 might not be the only show which concludes with movies. A movie version of Jericho is in the works, and if it is a success perhaps the show will be brought back once again. Jericho was canceled after the first season but returned for a second season after protests from fans. Moonlighting might be returning as a television movie for its 20th anniversary.  Bryan Fuller is also hoping to have a movie of Pushing Daisies to wrap up the show. Meanwhile, fans of Pushing Daisies, Dirty Sexy Money, and Eli Stone will have to wait until summer to see the final episodes of these canceled series.
Heroes returns with a new chapter, and after problems with the last chapter Tim Kring is hoping viewers will return. The next chapter. Fugitives, was written so as not to require knowledge of previous stories. Fringe is also returning, and Sci FI Wire has some spoilers on the conclusion of the season.
Previously Mad Men had been renewed but series creat0r Matthew Weiner had been holding out on returning. After months of negotiations a deal was reached in which Weiner will return for two seasons for a seven figure deal.
Lauren Graham of Gilmore Girls will be returning to television. Entertainment Weekly reports:
We're one step closer to getting another weekly TV date with Gilmore Girls' Lauren Graham. (Pause for cheers. And… we're back.) Though we were under the impression NBC was developing a comedy for the actress, Variety reports that ABC has greenlit production on an untitled half-hour pilot in which Graham will play "a self-help guru who teaches women how to live a stress-free life — but struggles to follow her own advice when her boyfriend dumps her." The show, which features Will & Grace's Alex Herschlag and Arrested Development's Mitchell Hurwitz among its exec producers, sounds promising, right? I know we can't let our Gilmore love lead us blindly into TiVo season passes (see: Amy Sherman-Palladino's ill-fated The Return of Jezebel James), but this set-up could give us Lauren the way we like her: smart, supportive, sarcastic, self-deprecating, slightly neurotic, seriously funny, and above all, at the center of the story. In movies, she's been "the wife." On stage, she'll be "the girlfriend." (She's expected to make her Broadway debut as Miss Adelaide in a spring revival of Guys and Dolls.) But on TV, she'll always be "the star." Make her self-help guru a fast-talking pop-culture connoisseur, and it's my favorite show.
Hilary Duff also returns to television in Barely Legal. It sounds like the concept is something along the lines of Lizzy McGuire goes to law school so she can sue Doogey Houser.
Several characters from Veronica Mars are being reunited in Rob Thomas'  new series Party Down, and Kristen Bell might even make an appearance.