With nobody knowing how long the WGA strike will last I'm sure much of this is subject to change but we are starting to get an idea as to how the strike will affect many of the shows. The good news is that you'll have a lot more time to read your favorite blogs.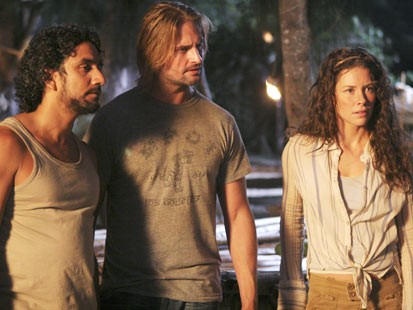 Lost has only filmed eight episodes but has decided to go ahead and show them starting in February. If they are unable to complete the season, the eighth episode ends in a cliff hanger which will serve as a season finale.

24 was already delayed by the California fires, and has additional problems with Jack Bower Kiefer Sutherland having to serve time in a Chinese prison in jail following a DUI arrest. As of now the season is canceled.
The Heroes Origins spin off has been canceled and Heroes might come to an early end this December. In the meantime, we finally get an explanation as to what happened following the conclusion of last season on Monday's episode. It's a shame the season might be ending as Tim Kring appears to have figured out what he has done wrong. In an interview in Entertainment Weekly, Kring acknowledges that the pace has been too slow this season and that Hiro spent too much time in Japan. Is there anyone who didn't guess that Hiro would wind up doing the good deeds attributed to Takezo Kensei and that David Anders would turn out to be a bad guy who survived to present time? I never did trust Sark.
Pushing Daisies will end after the ninth episode which was rewritten to serve as a season finale. If I knew it might only last nine episodes this year I might have stuck with it longer, but I gave up on it after the second, questioning how long the gimmick of bringing people back to life would work. (The idea did work well for Torchwood when they brought it back only one time following the series premiere in the episode broadcast on HDNet this week, They Keep Killing Suzie).
Many sitcoms are also shutting down early, including Big Bang Theory. This show was a pleasant surprise for the season. Episodes often include jokes which those who watch the shows regularly discussed here will appreciate. CBS is putting together a string of comedies on Monday nights to rival the classic "must see" Thursday lineups from NBC. Last I heard, How I Met Your Mother has remained in production but Rules of Engagement has been shut down.

Jon Robin Baitz, creator of Brothers and Sisters, wrote a letter to Governor Schwarzenegger requesting that he intervene in the strike which is up at Huffington Post. It just might take a killer cyborg to get the writers off the picket line and back to work.
JJ Abrams has stated he will honor the strike and not do any rewrites, but filming for the upcoming Star Trek movie began this week as scheduled. In casting news since my last update Bruce Greenwood will play Captain Christopher Pike, who preceded James T. Kirk in commanding the USS Enterprise. The most surprising addition to the cast was Winona Ryder as Spock's mother Amanda. Some early pictures from the filming have been posted on line. In other Star Trek news, The Times of London has a feature on Patrick Stewart. Armin Shimmerman (Quark) and Lawrence Krauss are teaching students at Arizona State University about The Science of Star Trek.
At least Doctor Who won't be affected by the strike. Alice Cooper is now discussing a guest appearance next season.
The comic books are also unaffected by the strike (other than for the many potential movie versions still to be made).The American Prospect has a story on how the comics are becoming increasingly political.