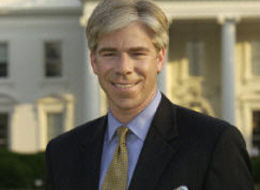 David Gregory is reportedly to take over as host of Meet the Press. He did have his good moments when pressing the Bush administration during press conferences, but he has all too often repeated lame Republican talking points. Are there also any political junkies who do not consider him one of the most boring hosts of network or cable newscasts?
Gregory's credentials are summarized by Mike Allen:
Gregory, 38, celebrated his 30th birthday — complete with cake — aboard George W. Bush's presidential campaign plane, the assignment that solidified his stature as a network rising star. Enjoying a gravitas boost from his prematurely salt-and-pepper mane and friendships with Tom Brokaw and other of the legendary figures of NBC News, the Los Angeles native quickly became one of the hottest personalities in network news.
Eating cake with Geroge Bush, being a friend of Tom Brokaw, and having premature gray hair does not make one a great journalist.
Since I did not think there was much hope that Jon Stewart would get picked, or even that NBC would go with Steve Benen's top choice of Rachel Maddow, I was hoping that Chuck Todd would be chosen. I think that he was the only one now at NBC who could maintain the current position of Meet the Press as the top Sunday interview show.