After months of speculation, David Tennant has announced he will leave the role of The Doctor after the upcoming series of four Doctor Who specials are completed. BBC News reports:
Tennant stepped into the Tardis in 2005, and will leave the role after four special episodes are broadcast next year.

He made the announcement after winning the outstanding drama performance prize at the National Television Awards.

"When Doctor Who returns in 2010 it won't be with me," he said.

"Now don't make me cry," he added. "I love this part, and I love this show so much that if I don't take a deep breath and move on now I never will, and you'll be wheeling me out of the Tardis in my bath chair."

'I'll miss it'

Three years was "about the right time" to play the role, he told the BBC in an exclusive interview.

"I think it's better to go when there's a chance that people might miss you, rather than to hang around and outstay your welcome," he said.

His stint in the show had been "the most extraordinary time, it's been bewildering, life changing, very exciting", he said.

"And just so much fun, such a great show to work on.

"That's one of the reasons I think it's right to take a deep breath and bow out when it's still fun, when it's a novelty.

"I don't ever want it to feel like a job, so I want to move on when it still feels exciting and fresh and that means I'll miss it."
Liz Lemon to date Don Draper? Tina Fey and Jon Hamm will have something in common besides both appearing on Saturday Night Live recently. Jon Hamm of Mad Men might appear in a multi-episode arc of 30 Rock as Liz Lemon's new love interest.Video of two of Hamm's skits on SNL were posted here.
With all the subplots on Heroes, a lot has happened, including the return of Kristen Bell as Elle. Perhaps the most interesting development was seeing Sylar's role get even more complex as his father got him to turn on his mother, but he still decided to save  his brother Peter's life. His character is certainly different from previous years when he was motivated by little more than killing others with super powers in order to obtain their powers. Ultimately we saw him as a pure family man in a possible future shown earlier in the season.
There might be an unexpected benefit from the bad economy. I've often felt that, compared to several years ago, television shows are canceled too quickly if they are not doing well in the ratings, not giving them a chance to build an audience. The Hollywood Reporter believes that the bad economy might be responsible for some shows such as Terminator: The Sarah Connor Chronicles being renewed:
Industry observers say the recent cluster of low-rated shows granted full-season orders might have something to do with network executives watching the plunging Dow rather than their shows' falling Nielsens.

No execs would talk on the record, but the economic crisis, combined with the cost of marketing a new series, the lack of new programming inventory because of the WGA strike and the anticipated difficulty of locking down new advertiser commitments, has networks inclined to play it safe.

"Most years there would be more cancellations than there have been to date," said John Rash, senior vp/director of media negotiations at Campbell Mithun. "But the dual dynamics of schedule stability keeping ad dollars in place is combining with delayed programming development from last season's writers strike."

NBC's "Knight Rider," ABC's "Private Practice" and Fox's "Terminator: The Sarah Connor Chronicles" recently received orders for an additional nine episodes apiece. Such a move typically indicates a network's confidence in a show's performance and signals the inclination to keep a series on the air for the duration of the season.
Life on Mars at least has received well deserved improvements in the ratings. Last week Sam came to the assistance of his mother, learning far more about her than he probably wants to know, and also got the opportunity to meet Jim Croce and Joe Namath (Joe the Quarterback?). In upcoming episodes he gets involved in his father as well as someone who was/will become his mentor.
Bradley Whitford of The West Wing and Studio 60 on The Sunset Strip is producing and staring in a sitcom for NBC named Off Duty about a once-legendary police detective (Whitford) on his way down who complicates the life of his new partner, both on duty and off.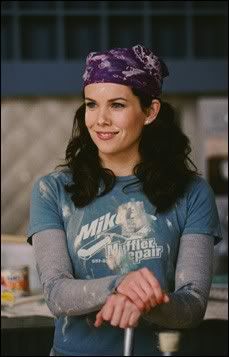 Lauren Graham of Gilmore Girls will be appearong on Broadway as the female lead in a new revival of Guys and Dolls.
J. Michael Straczynski, creator of Babylon 5, is working on a script for a remake of the 1956 classic Forbidden Planet.
And finally, the planet Vulcan might have been discovered.