Sarah Connor has problems even more serious than robots trying to kill off humanity. Ratings have fallen to the point that Terminator: The Sarah Connor Chronicles is at risk of cancellation with production being halted after thirteen episodes. From Entertainment Weekly:
Question: How bad are the ratings for Terminator: The Sarah Connor Chronicles? — Dean
Ausiello: Armageddon-like? An SCC insider tells me that if the show's numbers don't start to climb, Fox is unlikely to order any additional episodes beyond the 13 currently in the pipeline. At Saturday's EW pre-Emmy bash, Thomas Dekker remained hopeful that they could hold off doomsday at least until the end of football season. "We¹re up against Monday Night Football," he sighed, "which is tricky because we have a lot of football fans."
Last week's episode was mixed. We did learn more about John and Cameron's past/future. (Tenses are so hard when dealing with a show based upon time travel.) Cameron loses her memory while in a supermarket and reverts to memories of a girl named Allison who was/will become involved with John. Cameron was/will be made to impersonate Allison to get close to John. This means that while John might not get involved with Cameron before Judgment Day, in the future he will be involved with Allison who will look like Cameron.
While the episode was mixed, I09 had an advanced view of tomorrow's episode and report that it is the best episode of the season, and possibly of the series. Hopefully word gets out and this improves ratings, protecting the show from early cancellation–a common fate for genre shows on Fox.
While Sarah Connor Chronicles is in danger of cancellation, Fringe has been renewed for the full season due to high ratings in the 18-49 demographics. Apparently I'm a bit too old, and came very close to deciding to give up on the series until the final moments of last week's episode when John Scott (Mark Valley) came back from the dead. This has me curious enough to check out at least one more episode.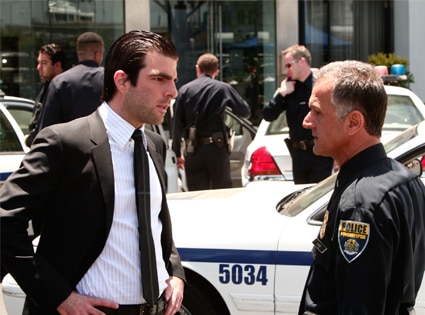 Sylar and Noah make for an interesting pair on Heroes, with Noah hoping to kill of Sylar as soon as he can figure out how. Sylar is acting more human and Watch With Kristin reports that we will see an alternate reality for Sylar which may or may not come about. In other spoilers, Kristin writes that Hiro and Ando are going to dig up Adam.
Kristin also has some spoilers about Lost. We won't find out about Jin's fate until the fourth and fifth episodes. Did he survive the freighter explosion, or will he only appear as a ghost or in flash backs? TV Guide has a little more about Lost:
When I spoke with Michael Emerson at the Emmys, he told me, "Ben's mission has changed, time has passed, he has different resources… and he moves around a lot." He also hinted that he might have a scene with Desmond coming up, which begs the question: Desmond's back?
While I've only seen one episode of Mad Men, between watching this and its Emmy Awards there is no doubt that AMC is capable of airing a quality show. I've previously reported on their plans for a remake of The Prisoner, and now they are planning a show based upon Kim Stanley Robinson's novel Red Mars:
"Mars," a 1992 novel by Kim Stanley Robinson, chronicles the inhabitants of the first human colony on the planet. Hensleigh ("Armageddon") is the writer and will executive produce alongside Michael Jaffe and Howard Braunstein of Jaffe Braunstein Entertainment ("The Memory Keeper's Daughter") and Vince Gerardis, Ralph Vicinanza and Eli Kirschner of Created By ("Jumper").

"This fits in with our bigger vision of wanting series that feel like cinematic one-hour movies," said Christina Wayne, senior vp original series and miniseries at AMC. "We're always looking for big genres but to do them in slightly different ways so they feel fresh and new," she added, noting as examples the network's Western mini "Broken Trail" and crime-themed series "Breaking Bad."

Jeremy Elice, vp original programming series, added that the project will be character-driven. "It's not the spectacle of sci-fi that you typically see," he said.