[youtube=http://www.youtube.com/watch?v=bsRqispBIRA]
Hillary Clinton now admits she "misspoke" about facing sniper fire when landing in Bosnia. Keith Olbermann (above) compares the video of Clinton's claims about sniper fire in Bosnia with actual video showing her being greeting by an eight year old girl.
Yes, Hillary Clinton misspoke, just like Bill Clinton misspoke about not having had sex with that woman, George Bush misspoke about WMD in Iraq, and Richard Nixon misspoke about that break in. Someone who has repeatedly lied about her years as First Lady, and who has repeatedly lied during this campaign, will probably continue to lie in office.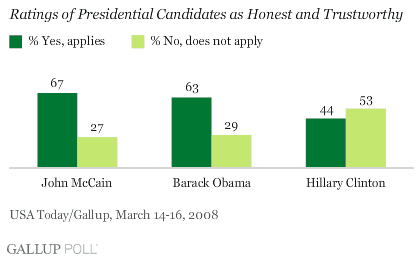 Fortunately enough voters realize that Hillary Clinton cannot be trusted to prevent her from being elected and carrying on the tradition of Richard Nixon, Bill Clinton, and George Bush of destroying the credibility of the presidency. A Gallup poll from before this lie was exposed showed that only 44% felt Clinton is "honest and trustworthy." This compares to 67% for John McCain and 63% for Barack Obama.
Hillary Clinton has based her campaign upon claims of being the more experienced candidate but much of this "experience" is based upon similarly fabricated accounts of her actions as First Lady. Her real experience is not in foreign policy but in deceiving the voters. If you want another president like Richard Nixon or George Bush then vote for Hillary Clinton. Otherwise it is time for Democrats to stop giving her a pass because she is running with a "D" after her name and reject her as being ethically unfit to be president.