There were several Emmy nominations for genre shows, but the only winner last Sunday night was Terry O'Quinn who won as Best Supporting Actor in a Drama Series in Lost. While some were disappointed, the nominations themselves are also a form of recognition. I think they got it right in including Ron Moore in a group of top writers including David Chase, but it was no surprise that Chase came in first. Similarly Heroes is a good show and did well to get a nomination, but it didn't stand a chance to win as best drama against Sopranos. While Battlestar Galactica got shut out on the main Emmy night, they did pick up a "Creative Emmy" for Outstanding Special Visual Effects. The award came for showing Galactica falling through the planet's atmosphere in Exodus, Part 2.
TV Week reports that SciFi Channel is continuing to consider dividing up the final season of Battlestar Galactica for financial reasons:
As is often the case with the lavishly produced series, the issue is "the money people," as one executive put it. Since "Battlestar" eats a considerable portion of the Sci Fi programming budget, the network might be forced to spread the resulting product across two seasons.

Showrunner Ron Moore shrugged off the issue. "It doesn't affect my job either way, since we're shooting it straight through," he says. "It might be better to get it all done [in the same year] for the fans so they don't have to wait."
Waiting might be difficult:
With "Battlestar" fans already waiting about a year for the return of the series — not counting the two-hour "Razor" stand-alone movie coming this fall — returning with only 10 episodes could spark a revolt.

Moore's storyline also could make fans demand rapid closure, one person close to the project says, since "when people see the ending of the 10th episode, they're gonna freak out."

The final decision might not come until January. A key factor is what new shows are in the pipeline that could be paired with "Galactica" – and how much those shows will cost.
Among the shows being considered is Caprica, the prequel to BSG. They are also considering filming the two hour pilot to sell on DVD regardless of whether they produce the entire series, especially if this fall's BSG movie does well.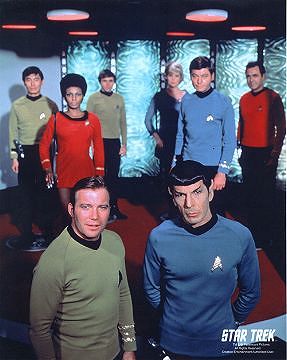 SciFi Pulse has an interview with Rod Roddenberry, son of Star Trek creator Gene Roddenberry. He is concerned about the movie being a prequel:
I am concerned about them doing a prequel because it's always tricky to do a prequel. There were a lot of issues with Enterprise because Enterprise was going against pre – established things and it's always tough when you go against pre – established things. So I'm happy he's doing it. I'd prefer them, when I say them I mean Paramount and everyone to wait a few years. I'm hesitant on the prequel. You see I have not read a script. Paramount does not have to give me a script; no one has to give me a script to read to get my approval. I would like to read it but I think they know that I speak my mind for the most part. So if I thought it were a bad script I would probably say something along the lines of, 'Huh you know it's a good Star Trek' as apposed to 'Yeah everyone has to go see it. Everyone has to go see it.' And the fans have given my family a lot of clout and I think that to some degree has given me a lot of clout. So I think that a lot of people respect what I say to a degree and if I didn't have anything good to say about it I think they'd be scared.
I was opposed to doing an entire prequel series as with Enterprise, but for the movie I don't think they have much choice. As there isn't a recent successful television show to base the next movie on, the best chance for a mass market success comes from returning to the most well known characters including Kirk and Spock. If the movie does well, I hope it leads to a new Star Trek television series, preferably taking place on a Starship and occurring after the events of Voyager and Deep Space Nine. A television show can build a new following, but a movie does not have that luxury.
A web site for the Doctor Who spin off, The Sarah Jane Adventures, is now on line and they are no longer blocking those of us outside of the UK from seeing it. There's no word as to whether it will air on American television. Currently the SciFi Channel carries Doctor Who, BBC America caries Torchwood (as well as previous seasons of Doctor Who) and HDNet carries Torchwood nine days after the episode is seen on BBC America. Therefore, unless I get to the point where I cannot wait to see what happens next, posts on Torchwood will be postponed until after it is shown in HD. Of course if it turns out to get so good that it becomes difficult to wait, I'll just download the first season as I did to avoid waiting to see Doctor Who this season. The consensus appears to be that the show gets much better over time.
Tonight SciFI Channel broadcasts Utopia, which leads into the final two episodes of the season on Doctor Who. I previously reviewed Utopia here. Many items from earlier in the season play a part in the season finale, including even more than I first suspected from Utopia. The episode is also notable for the return of Captain Jack for the final three episode arc, taking place after the first season of Torchwood.
Geeks of Doom has a preview of the new version of The Bionic Woman:
Jaime Sommers (Michelle Ryan) is having a tough time of things, but she's making it work for her. She has to deal with her bratty little sister (Lucy Hale), a crappy job, and not much of a future, but she has a nice guy in Dr. Will Anthros (Chris Bowers), a noted professor who works in prosthetics and reconstructive surgery. Things take a turn for the worse when Jaime and Will are in a terrible accident. Will is fine, but Jaime has massive injuries, and ends up losing her legs, right arm, right ear, and right eye. That's when the boyfriend goes to work, and gives her new body parts. Of course as happened to Steve Summers in the Venture Brothers, the government expects her to pay for her new limbs. Do you know how long it takes to pay back 50 million dollars on a government salary? But seriously, she escapes from the hospital only to run into another bionic woman (Katee Sackhoff) and becomes embroiled in a variety of mysteries. Who is her new boss (Miguel Ferrer)? What is the other bionic woman's agenda? What do some of these other scenes mean?

What the creators have done well here is create a good mystery series. There are conspiracies within conspiracies, and a lot of things to keep the viewer coming back for more. There's so much going on that I discovered new connections on a second viewing. The angle with Jaime working for the organization that gave her the powers sets up a decent enough storytelling engine, as long as the creators can come up with valid threats for her to fight on a weekly basis. Fights with other enhanced people could wear thin quickly though, so they'll need to come up with various enemies that are legitimate challenges for her. But it's the underlying mystery that really drives the drama forward. Much like BSG, the big questions make me want to watch the second episode, and if done well, will keep me on for the third and the fourth and the whole season. I'm forced to keep coming back to BSG, but the creators have borrowed so heavily from it that it's hard not to make the comparison (especially since creator David Eick is also a producer on BSG).

Google searches for Vanessa Hudgens are greatly surpassing Britney Spears and Paris Hilton in hits to the site following the item two weeks ago on the nude pictures of the star of the High School Musical being released on line. Disney is still sticking with her. After all, compared to former Mouseketeer Britney Spears, Vanessa still looks respectable. There are rumors floating around that Hudgens is considering posing nude in a men's magazine and that she has been offered $500,000 to appear in a Girls Gone Wild video. I suspect there is a limit to what Disney will forgive. Besides, how much will people really pay to see what has been available on line to see for free?
Fox has issued a press release with a minor spoiler about the upcoming season of 24:
Bauer's day gets off to a shocking start when former colleague Tony Almeida (played by Carlos Bernard), last seen in Day 5, returns after being left for dead by a terrorist conspirator in CTU's infirmary.
The Sex and The City movie started filming this week, taking place four years after the events of the television show. Thanks to a cell phone camera we have a spoiler from the filming. The picture shows a very pregnant Charlotte talking to Big: