This week there's a lot of news about casting, including characters coming back to shows next season and characters who are leaving.
While some shows such as Battlestar Galactica, 24, Lost, Jericho and will wait until mid season to start, Heroes is going the reverse route. They are going to end early, after a full twenty-four episode run, in order to show the Origins anthology series. This will run for six weeks from mid-April thru May and feature a different new superhero each week. Tim Kring has also stated that, while there will be breaks between new episodes, there will not be a long break as there was last year.
There has been no official announcement as to who will be back, but blogs covering the press conference have provided some hints. Greg Grunberg (Matt) let it slip out that he's back at work on filming the second season. Hiro is returning, and will remain in feudal Japan for several episodes. The Petrelli brothers look different after that explosion. Milo Ventimiglia's hair is extremely short, and Adrian Pasdar has grown a beard.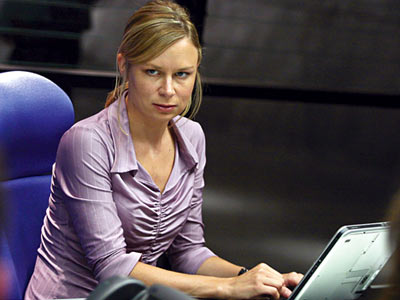 There will be major cast changes on 24, which no longer will take place at CTU in Los Angeles. Besides Kiefer Sutherland, it is possible that only Mary Lynn Rajskub (Chloe) will return, but once again the President will play a part in the plot. Ausiello reports that there will be a new President who might be a woman.
Boston Legal also plans major casting changes, and will be down to only one former Star Trek character in the regular cast. Rene Auberjonois (Odo of Deep Space Nine) will be leaving, along with Mark Valley,Julie Bowen, and Constance Zimmer. As has happened in past seasons, some of these may return for an occasional episode. John Larroquette and Tara Summers will be joining the cast . Christian Clemenson (Jerry Esperson) will be made a regular member of the cast.
Looking ahead, this weekend we will finally see what Mr. Saxon is up to in England on Doctor Who. I previously reviewed last weeks episode, Utopia, here. The episode was not as good as the previous three episodes, but it would have been difficult to sustain that quality. Although the show initially seemed like a run of the mill episode (except for the return of Captain Jack), the payoff at the end turned it into another excellent episode. With this one as a start, it appears that Doctor Who is set to end the season with a strong two part follow up.
For those who haven't seen it, Jericho will be replayed starting July 6. They will show the first episode, a mid-season recap episode, and then episodes 13-22. If you plan to start watching the show, I'd suggest catching the first twelve episodes which are available for view on line. While the later ones pick up the story leading to the season finale, in many ways the earlier episode which dealt with more day to day life were better.
The creators of the Masters of Horror series on Showtime are making Masters of Sci-Fi which will be an anthology series written by science fiction authors. ABC has ordered six episodes but currently only plans to show four starting in August. They are scheduled to air at 10 p.m. on Saturday nights, which doesn't give the show a very good chance.
While there's little to watch on television until fall, there's always plenty to read. It's not long until the final Harry Potter book is released. Despite all the security surrounding the book, a hacker claims to have hacked into her publisher's computer and obtained a copy. He has posted what he says are key plot points. Of course we have no way to know if they are accurate, and even if they are I wouldn't want to spoil the end of both the novel and the series. As curious as we are, I would think that most fans would prefer to find out how it ends as we read the book.